Google Docs bumps maximum file size to 10GB
July 22, 2011. By Lance Whitney/Cnet
Google Docs users can now upload and work with files and documents as large as 10 gigabytes.
In a Google+ post from yesterday, Google product managerScott Johnston announced the latest enhancement that boosts the maximum Google Docs file size from 1 GB previously.
However, the increased file size will mainly benefit users with paid accounts. People who use Google Docs for free are still limited to 1 GB of storage space in total for uploaded files, though documents created directly online don't count toward that quota. But users with paid account that range anywhere from $5 a year for 20 GB to $4096 a year for 16 terabytes may find the new file size handy for uploading images, videos, and other hefty file types.
In other news on the Google Docs front, PowerPoint users can now upload and convert PPTX files (the format used by PowerPoint 2007 and 2010). The company provides a support page that explains how to convert various Microsoft Office file types into Google Docs.
Google spreadsheet users can now access a handy list of keyboard shortcuts by pressing the Ctrl and / keys. Using the keystrokes can sometimes make it easier to navigate from one section or spreadsheet to another.
And finally, the Google Viewer now supports compressed ZIP and RAR files. Uploading either file type lets you view a list of the contents of the compressed file without having to download and uncompress it first. Google will even let you view certain files within the ZIP or RAR archive. For example, I uploaded a ZIP file containing Word documents, and the Google Docs Viewer was able to display each document properly formatted.
Oracle scrubs site of embarrassing Java blog
July 22, 2011. By Jay Greene/ CNET
The beginning of Sun's Jonathan Schwartz's 2007 blog post praising Google's use of Java in Android.
In the midst of its nasty legal battle with Google, Oracle seems to have resorted to a bit of Web site scrubbing.
The database software giant is suing Google for allegedly infringing on its Java patents in the Android mobile operating system. Now, quietly, Oracle has removed all the blog posts of former Sun Chief Executive Jonathan Schwartz from its Web site, including one embarrassing one that praised Google's use of Java in Android. Oracle acquired Sun and its Java programming language in January 2010.
In November 2007, when Google launched Android, Schwartz, a prolific blogger, praised Google's use of Java in a blog post titled "Congratulations Google, Red Hat and the Java Community!"
"I just wanted to add my voice to the chorus of others from Sun in offering my heartfelt congratulations to Google on the announcement of their new Java/Linux phone platform, Android. Congratulations!" Schwartz wrote.
Schwartz also crowed about the momentum Google's use of Java in Android gave to the programming language.
"Google and the Open Handset Alliance just strapped another set of rockets to the community's momentum - and to the vision defining opportunity across our (and other) planets," Schwartz wrote. "Today is an incredible day for the open source community, and a massive endorsement of two of the industry's most prolific free software communities, Java and Linux."
But Web surfers looking for that post will be hard-pressed to find it now. Until recently, the link http://blogs.sun.com/jonathan/entry/congratulations google redirected to Oracle's servers and showed the post in its entirety. But clicking on that link now leads to a "404 Not Found" on Oracle's site.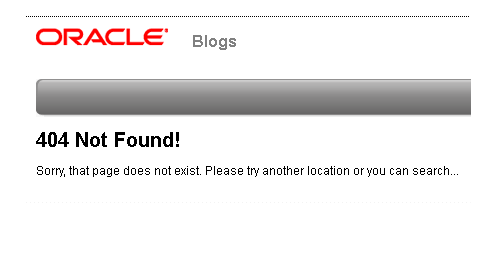 The "Not Found" message from Oracle that Web surfers get when they click on links to Jonathan Schwartz's blog post praising Google's use of Java in Android.
Of course, nothing ever really disappears from the Web. Using the Internet Archive's Wayback Machine, Web surfers can find the post in its original form.The post isn't just embarrassing for Oracle. Google deemed it damaging enough to Oracle's case that it included the item as an exhibit in its defense. And it noted in a filing listing its various exhibits that the post was available as of March 31, 2011.
It's unclear when Oracle removed the post. And the company didn't respond to e-mail and phone requests seeking comment. Oracle didn't just remove that one post. It has taken down all of Schwartz's posts.But it appears that the company has singled out Schwartz's blog. Other blogs written by former Sun employees remain on Oracle's site.

Read more: http://news.cnet.com/8301-1023_3-20082151-93/scoop-oracle-scrubs-site-of-embarrassing-java-blog/#ixzz1SsOQUUv2