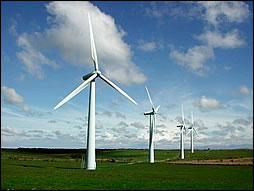 On the continent it is common for businesses to invest in a wind turbine to contribute to their electricity supply particularly along the seaboard or desert regions but also at other windy sites around the country. This is a realistic option for corporate businesses and government establishments.

In remote locations, where grid connection costs are prohibitive, small wind turbines combined with battery storage can provide a solution to electricity supply problems for small communities and businesses.

Our experts will help you develop a solutions that meets your requirement. In a wind energy installation, initial costs are incurred for the self-contained energy collection and storage system. But after that, the energy itself is free! When compared to the traditional systems i.e. hydro-electric power, generating plants & gas propelled electricity energy, plus electric bills continuing forever – the wind energy system's advantages can be dramatic and immediate.

Our professional team and comprehensive solution is designed to ensure we meet our client's needs. Through the ability of our consultants to prioritize tasks, develop plans of action that make sense, and maximize personal productivity.

With an understanding that Projects requires the ability to manage time and complete projects on schedule and budget, we bring this into managing our client's projects to their utmost satisfaction.

Wondering what technology solution will benefit your business?
Speak to us today.
Contact out technology team on Technology@Krytgroup.com